The mission of Physical Agent Modalities Practitioner Credentialing Agency, LLC (PAMPCA), is to provide a credentialing process that includes the necessary education, testing, and monitoring of clinical preparedness for practitioners who want to use physical agent modalities in their practice. In doing so, the public is able to identify those healthcare professionals who are qualified to use physical agent modalities as part of their routine practice.
PAMPCA, LLC, was established to educate practitioners in the proper, safe and judicious use of physical agent modalities in the treatment of their clients. PAMPCA provides the education, testing and awarding of an initial credential for physical agent modalities use to practitioners. It has created an innovative, structured educational system leading to certifying individuals for using physical agent modalities. This education process is provided through web-based instructional media, a two-day workshop and supervised clinical experience. To date, thousands of occupational therapy practitioners have successfully completed this certification program offered by PAMPCA, LLC, and are approved by their respective states to legally use physical agent modalities.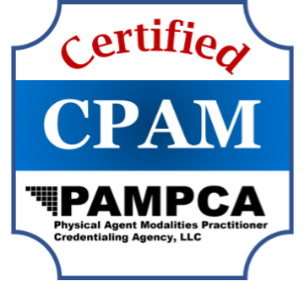 A digital badge is an indicator of an accomplishment, skill, quality or interest. The CPAM Digital Badge verifies you have met the strict requirements outlined by the Physical Agent Modalities Practitioner Credentialing Agency, LLC. As a PAMPCA graduate, the CPAM Digital Badge is a great way to exhibit your achievements at a glance to establish your credibility in physical agent modality use. Individuals use badges across platforms as a visual snapshot of their achievement. Graduates will receive their CPAM Digital Badge along with a certificate of completion once all requirements are met. We recommend that you place the digital badge on your email signature line.